A night of worship, prayer, and encounters with the Holy Spirit.

Join us as we gather for an extended time of worship and seeking God's presence together.
6:30 - 8 PM
WELCOME ABOARD & VINEYARD 101
Vineyard Voyage is the new growth track for people coming to LAVC. Consisting of four chronological sessions, Vineyard Voyage will help you get plugged in, learn about who we are, and better understand our story, our theology, and our expectations for leadership.

Register for this event by January 30.
Healing Prayer takes place on the second Thursday of each month.

Healing Prayer is the ministry of praying for God's healing. Jesus didn't come just to save our futures, He came to save us today! Healing is offered for many different areas such as physical, spiritual, mental, or emotional situations.

To sign up for healing prayer please call/text Faith at LAVC
(218) 846-1199 or send an email to faith@myvineyardchurch.com.
At Lakes Area Vineyard Church, we are a community of disciples who make disciples. Our desire is to see people experience God, grow in love, and then give it away. We consistently see the most growth and life change in the context of our Connect Groups. This is because disciples grow best in the context of Christ-centered relationships. It's in these relationships that we learn how to love God and others more.

Connect Registration is from January 2 - January 23.
SATUREDAY, FEBRUARY 19 // 5:00PM
Men, women, and children are all invited to attend this FREE event! Whether you hunt, fish, golf, camp, run, play baseball, football or any other activity, this event is for you!

This years event will feature guest speaker Zachary Skoglund, an avid outdoorsman and assistant pastor at The Refuge - an Evangelical Free Church in Zimmerman, MN. Please bring a dish or dessert to share for this fun dinner event! There will be prizes and giveaways!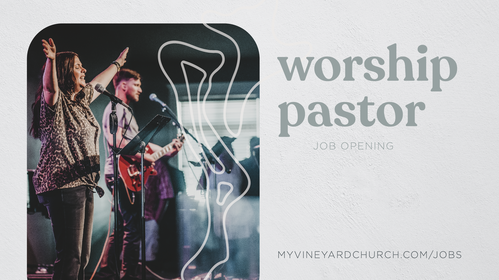 LAVC CURRENT JOB OPENINGS
We currently have a job opening here at LAVC! ⁠

We are hiring a worship pastor! If you are interested in this position we encourage you to pray for discernment and to hear God's voice in making the decision to apply for this role at LAVC. To see the entire job description click the button below.
sunday, february 20 // 1:00pm - 2:30pm
MISSIONARY CONNECT GATHERING
Join us for a Zoom call with the De Souza and Shroyer families to hear stories of how they've seen God at work in Angola, Africa, what they've been up to, what's going well, what isn't going well, and for an opportunity to ask either family any questions you may have.

Dessert and coffee will be provided. Please RSVP using your Connection Card!
FIRST & THIRD WEDNESDAYS OF THE MONTH
9:00 - 11:00AM
Moms are invited to Lakes Area Moms! Friendship, fun, care, and prayer! Plus great childcare will be provided! This year's theme will be "connections" based on Jeremiah 29:11 ERV.

Please save these dates for the spring semester of LA Moms
February 2 & 16, March 2 & 16, April 6 & 20, May 4 & 18

Contact the Lakes Area Vineyard Church office for more information:
office@myvineyardchurch.com // 218.846.1199
MARRIAGE MENTORING
Marriage is beautiful, but it can also be hard work.
Looking for some help to keep your marriage healthy and strong?
Click the button below to get started.
Our team would love to serve you and help you get connected.
Need some prayer? We'd love to pass on your request to a team of committed individuals that look forward to praying for you! Fill out the form below and we'll pass it on.