SUNDAY, SEPTEMBER 26 // 6:30PM
Join us at Lakes Area Vinyard Church as we gather for an extended time of worship and seeking God's presence together. We hope to see you there!

There will also be a livestream option available on myvineyardchurch.com & Facebook Live.
Healing prayer will take place on the second Thursday of each month!

Healing prayer is the ministry of praying for God's healing. Jesus didn't come just to save our futures, He came to save us today! Healing can be needed in many different areas such as physical, spiritual, or even inner and emotional healing.

To sign up for healing prayer please call/text
Faith at LAVC (218) 846-1199 or send an email to faith@myvineyardchurch.com.
Men, we know it's been a long time since we've had an event just for you! Consider joining us for a Wild at Heart Experience Conference on October 15-16 at LAVC. We will eat together, worship, and hear stories of men pursuing their warrior hearts through God's invitation to battle, adventure, and beauty. At this conference, you'll also have an opportunity to hear about other upcoming events that are just for men.

Registration is $25 which will help cover a small cost of our meals & materials.

Registration deadline is October 3.
First & Third Wednesdays of the month
9:00 - 11:00am
Moms are invited to Lakes Area Moms! Friendship, fun, care, and prayer! Plus great childcare will be provided! This year's theme will be "connections" based on Jeremiah 29:11 ERV.

Please save these dates for the fall semester of LA Moms -
Sept. 15, Oct. 6 & 20, Nov. 3 & 17, Dec. 1 & 15, Jan. 5.

Contact the Lakes Area Vineyard Church office for more information:
office@myvineyardchurch.com // 218.846.1199
It is our practice at Lakes Area Vineyard Church to dedicate children to the Lord.
Registration is full so stay tuned for future dates.
Are you new to Lakes Area Vineyard Church? Would you like to learn more about who we are as a church family? If so, we invite you to join us for our Welcome Lunch!⁠
⁠
This is a fun, informal opportunity to meet our pastors and staff. You will hear more about our vision and values and enjoy a lunch provided by us. Free childcare is also provided - just let us know how many children and what their ages are. The lunch will take place after the second service in the lobby of our main building.⁠

Registration deadline is September 26.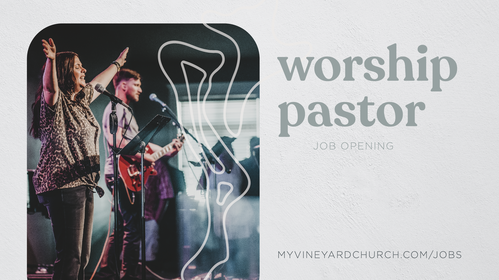 LAVC CURRENT JOB OPENINGS
We currently have a job opening here at LAVC! ⁠

We are hiring a worship pastor! If you are interested in this position we encourage you to pray for discernment and to hear God's voice in making the decision to apply for this role at LAVC. To see the entire job description click the button below.
MARRIAGE MENTORING
Marriage is beautiful, but it can also be hard work.
Looking for some help to keep your marriage healthy and strong?
Click the button below to get started.
Our team would love to serve you and help you get connected.
Need some prayer? We'd love to pass on your request to a team of committed individuals that look forward to praying for you! Fill out the form below and we'll pass it on.